At Purple Cow Chiropractic, we take great pride in providing the finest chiropractic care to each and every patient. We have included information below about the different chiropractic services offered in our Encino chiropractic office, but please call us at (805)-644-0461 if you have any questions!
---
Family Chiropractic
(of course includes pregnant women and their children)
Treating my wife and hundreds others at the Natural Childbirth Center, gave me unique skills, insight and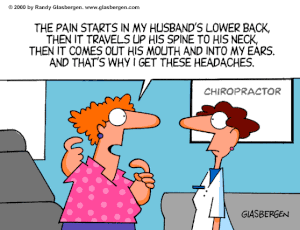 sensitivity to the birth process. Whether you have a temporary 'tummy" or you are temporarily a small person, we all need an optimal functioning nervous system.
Chiropractic is a branch of the healing arts that is based upon the understanding that good health depends upon a normally functioning nervous system. The nervous system functions to control and coordinate every function of your body. Your spine is comprised of a series of moveable bones housing the spinal cord and spinal nerves, which exit the cord through openings between the bones (vertebra). The spinal nerves form a complicated network, which supplies and influences all the tissues and organ systems of your body. Misalignments or "subluxations" of vertebra that make up the spinal column can irritate these spinal nerves and cause dysfunction. Once these spinal misalignments are corrected by a chiropractor adjustment, the irritation is removed, and the body's health and optimal function can then be restored, often relieving pain and dysfunction.
Pregnancy, Low Back Pain and Chiropractic
It has been this authors personal experience that pregnant woman experiencing low back pain secondary to her pregnancy has been told to "wait and see" over time, with the hope that the back pain would go away. This is predominantly because the "drug option" is off the table with complications to the fetus and most doctors are not willing to take the chance to relieve mechanical (no tumors, fractures or infection) low back pain. My patients reported to me that their obstetricians told them their pain was a result of altered biomechanics and hormonal changes affecting the muscles and ligament of their spine. Current research has now verified through scientific evidence what practicing chiropractors and their patients have been claiming for decades, that chiropractic work to help relieve pain for pregnant woman with a safe, conservative treatment for both mother and the fetus. As a result of the effectiveness and safety, it now demands that chiropractic be the first referral option for pregnant woman experiencing low back pain.
According to Petersen, Muhlemann and Humphreys (2014) "Low back and pelvic pain in pregnant women is such a common phenomenon that it is often considered a normal part of the pregnancy [1-3]. However, the high prevalence of this problem (50-80% of women) and the impact that this may have on their quality of life, as well as the fact that back pain during pregnancy is commonly linked to low back pain persisting after pregnancy, mandates that it be taken seriously by health care practitioners. Many of these patients rate their back pain as moderate to severe with a small percentage claiming to be significantly disabled by the pain [6-8]. Pregnancy-related low back pain is most often divided into 3 categories based on location. These are: lumbar spine pain, posterior pelvic pain, or a combination of these two, with posterior pelvic pain reported to be the most common presentation and the location most specific for pregnant patients. Although the etiology of low back pain associated with pregnancy is not definitively known, the predominate theories include biomechanical changes due to the enlarging uterus resulting in an increasing lumbar lordosis and the influence of the hormone relaxin on stabilizing ligaments leading to hypermobility of joints." [pg. 2]
Petersen went on to report "The results of this current study which showed that a high proportion of pregnant patients with LBP undergoing chiropractic treatment reported clinically relevant 'improvement' support those published in a recent cohort study as well as the recent randomized clinical trial (RCT) looking at chiropractic treatment for pregnant patients with low back or pelvic pain." [pg. 5] Meaning, that chiropractic works for low back pain in pregnant woman and it has been proven in many scientific studies. The result showed that at various times during the pregnancy, upwards of 90% of pregnant woman reported positive results. The specific results reported:
52% improved at 1 week
70% improved at 1 month
85% improved at 3 months
90% improved at 6 months
All of these were with chiropractic care only and no drugs or any other type of intervention beyond patient education by the chiropractor.
Mullen ET. Al reported that when interviewing midwives, that 88.8% had an experience with chiropractors and 97% was positive. In addition, 94.5% of those had chiropractors treated their children and had a positive experience. The most revealing statistic is one of safety. 100% of midwives question answered that chiropractic was safe for their pregnant patients.
We also know that chiropractic is one of the safest treatments currently available in healthcare and when there is a treatment where the potential for benefits far outweighs any risk, it deserves serious consideration. Whedon, Mackenzie, Phillips, and Lurie (2015) based their study on 6,669,603 subjects after the unqualified subjects had been removed from the study and accounted for 24,068,808 office visits. They concluded, "No mechanism by which SM [spinal manipulation] induces injury into normal healthy tissues has been identified(Whedon et al., 2015, p. 5)
References:
Petersen C., Muhlemann D., Humphreys B. (2014) Outcomes of pregnant patients with low back pain undergoing chiropractic treatment: a prospective cohort study with short term, medium term and 1 year follow-up, Chiropractic & Manual Therapies 22:15, 1-7
Mullin, L., Alcantara J., Barton D., Dever L. (2011) Attitudes and Views on Chiropractic: A Survey of United States Midwives, Complementary Therapies in Clinical Practice 17 (2011) 135-140
Whedon, J. M., Mackenzie, T. A., Phillips, R. B., & Lurie, J. D. (2015). Risk of traumatic injury associated with chiropractic spinal manipulation in Medicare Part B beneficiaries aged 66-69 years. Spine, 40(4), 264-270.
---
Kennedy Decompression Technique
The Kennedy Decompression System™ provides a treatment for the relief of pain and symptoms associated with:
Herniated Discs
Bulging or Protruding Intervertebral Discs
Degenerative Disc Disease
Posterior Facet Syndrome
Sciatica
---
Physical Therapy/ Rehabilitation / Exercises
Featuring the world-famous Pettibon system. Click here to learn more.
This is application of modalities/procedures such as ice, heat, ultrasound, muscle stimulation (TENS) and traction. In our center we use safe, state of the art machines such as short wave diathermy (like ultrasound) but penetrates down to the bone, promoting healing, reducing scar tissue and swelling for arthritis and rehab.
(After and joint surgery) We are one of a very select group of doctors in California that uses this very expansive procedure for post-surgical or chronic arthritis patients.
Our Flexion-Distraction (similar to traction) table which you may have seen featured on TV, is excellent for gently relieving low back pain cause by disk injuries.
Stretching is so important:
As you may be aware, damaged tissue, left untreated, causes soft tissue to become fibrotic. Fibrotic tissue (scare tissue) causes loss of mobility.
Thus, stretching will help you. Cardiovascular exercise: Reduces muscular fatigue and enhances stamina.
Also, great way to loose those unwanted calories and pounds.
Weight training: Injuries are minimized with proper, doctor supervised technique instruction that we provide.
---
Acupuncture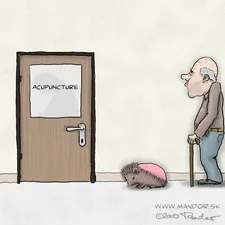 This ancient healing art from China is nearly 5000 years old and is actively utilized all over the world today. Acupuncture is a system of inserting fine needles into specified points along channels in the body known as meridians. The meridians are believed to be pathways by which chi, or vital life energy, circulates. Acupuncture modulates the flow of this vital energy, so as to prevent the onset of illness or to redress imbalances that have resulted in pain and disease.
---
Orthopedic Supports/ Supplies
From cervical pillows to lower back braces and home exercise equipment, we have access to the highest quality orthopedic supports/ supplies.
Whether you have carpal tunnel, tennis elbow, or just need a hot/cold pack we can assist your needs.
---

Orthotics
The structure of your foot supports your entire weight. The slightest misalignment of muscle and bones can cause many problems such as:
Bunions
Hammer Toe
Arch
Heel pain
Leg & Knee pain
Hip
Lower Back and
Neck pain
We can provide a thorough examination and prescribe prescription orthotics that is custom made to correct your specific foot imbalance. These devises are made from a precise impression taken of your foot vs. "a generic" one size fits all. Orthotics are very comfortable and will gradually restore the normal balance and alignment of your body and bring relief from your pain and fatigue.
---

Radiographic Diagnostic Analysis
(X-Rays)
For your benefit we will provide a prescription for your specific X-Ray testing The doctor will review your X-rays with you and answer your questions.
---


Wellness Care
(including Weight Management & Nutritional Counseling)
Our nutrition programs are individually designed for our patients to provide all the necessary high quality proteins, carbohydrates, vitamins, minerals, trace elements and essential amino acids in a proper balance, necessary to achieve and maintain ideal body composition. We employ cutting edge scientific protocols, evaluating key bio-marker's designed to objectively identify nutritional imbalances that may interfere with optimal metabolism whether you are a well-trained athlete, need to lose a few pounds, or have health challenges regarding your nutrition, our programs will help restore your bodies optimal function, and restore your vitality.